Loreal Infallible Pro-Spray & Set Makeup Extender Setting Spray
Loreal Infallible Pro-Spray & Set Makeup Extender Setting Spray
Loreal Infallible Pro-Spray & Set Makeup Extender Setting Spray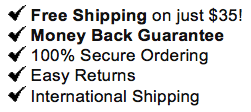 Product Description
Lock in your gorgeous makeup all day long with the Loreal Infallible Pro-Spray & Set Makeup Extender Setting Spray! It's a lightweight spray that sets your makeup and keeps it from smudging, fading, or melting, so you don't have to worry about touch-ups throughout the day.
This is a great alternative to higher end makeup setting sprays, as it as just as effective at an affordable price point. It's perfect for humid weather when you feel your makeup starts to fade or get oily/shiny, or when you have a long day ahead and don't have time to touch up or reapply your makeup. It keeps your foundation from fading or melting and keeps the vibrance of your eye shadow color all day.
Benefits:
Keeps your makeup fresh all day long
Prevents smudging, fading, or melting
Lightweight and oil free
Perfect for humid weather or long days
To apply, shake the bottle and hold about 8 to 10 inches from your face. Close your eyes, and spray about 4 times in an 'X' formation to lock in your makeup.
Product Reviews
Customers also viewed