Revlon ETERNA 27 CREAM WITH EXCLUSIVE PROGENITIN, JAR 6 Oz.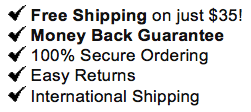 Product Description
Limited Time Only - Eterna 27 by Revlon - get the extra large 6 oz size!
Bring new meaning to the term beauty sleep. Eterna '27'® has been a must-have for women since 1961. This exclusive formula deeply penetrates into the skin while you sleep, using Protogenitin to smooth dry skin, reduce wrinkles and restore vital moisture and elasticity.
Used by thousands of women across Europe and America since 1961
Helps restore vital moisture and elasticity to regenerating skin while you sleep
Continued use results in younger-looking skin, silky-smooth softness and radiance
For maximum results use nightly for 28-30 nights
Designed for nighttime, for drier skin types
Last chance!
Product Reviews
Customers also viewed