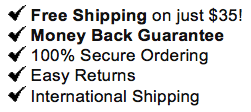 Product Description
Get gorgeously glamorous shine that won't fail you with Loreal Glam Shine Lip Gloss. The long lasting lip gloss provides unmatched color and unbeatable shine in a revolutionary formula that is drenched in moisture and never sticky. The color and shine will last you throughout the day so you don't need to worry about reapplication.
Benefits:
Volumizing formula makes your lips look fuller
Unwavering color and shine that lasts all day
Moisturizing complex
Non-sticky formula
Please note: Price may vary by shade.
Product Reviews
Customers also viewed