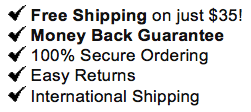 Product Description
Maybelline Pure Concealer evens your skin tone while healing your blemishes! This concealer is portable enough to slip in your purse and strong enough to hide any blemish the day may bring! Apply with ease and have skin that shines with perfection all day long! Maybelline Pure Concealer.
Maybelline Pure concealer covers and conceals blemishes while it helps prevent future breakouts. It contains 2% salicylic acid, the highest level of acne medicine you can get in a concealer. Maybelline pure concealer is dermatologist tested so it is sae for sensitive skin.
Features:
Blemish Treatment Stick
Salicylic Acid Acne Medication
Covers, conceals and treats in one precision applicator
Contains the highest level of acne medicine (2% salicylic acid) to treat and prevent new blemishes
Formulated with good-for-your-skin ingredients like Aloe, Vitamin E and Chamomile to soothe skin
Please note: Price may vary by shade.
Product Reviews
Customers also viewed