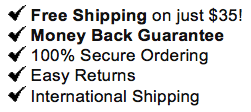 Product Description
Get perfectly feathered and luscious lashes with the Loreal FeatherLash Mascara. The ultra-lightweight formula doesn't clump and will have your lashes feeling as light and airy as a feather. The unique mascara also gives you an option between a straight or curved brush so you can cater your lash look to your daily desires.
Benefits:
Lightweight formula gives your lashes a feathered look
Doesn't smear or clump
Unique applicator that contains both a straight and curved brush option.
Product Reviews
Customers also viewed